Over $200,000 is lost by the victim in an online pop-up scam.
Minnesota:  The Blue Earth County Sheriff's Office is alerting people to a recent pop-up scam on going full trending these days on the internet.  The law enforcement agency has received two accusations of online fraud in the last week.
The con begins with a bogus Microsoft window that declares a security problem.  When the target calls the number displayed in the popup, they are informed that a bank employee is robbing them of their money.
The conman persuades the victim to put substantial sums of funds into an account holding a cryptocurrency such as Bitcoin.  After moving the funds, the con artist asks the target to divulge the new account details before stealing it.
Although there haven't been many instances of this specific fraud, the money involved is substantial.
One victim claimed to have lost nearly $200,000, and the con artists are advising the victims on justifications to offer if financial institutions notice fraud and attempt to take action.
Investigative possibilities in these cases may be restricted since those guilty frequently move throughout international borders to thwart identification and escape punishment and use online tools to obscure their identity.
The Sheriff's Office advises the public to exercise caution around these frauds and any requests for personal or account info made over the telephone, online, or in person.  By being vigilant and alerting clients who withdraw or move significant sums of money under dubious conditions, local businesses may help prevent these scams.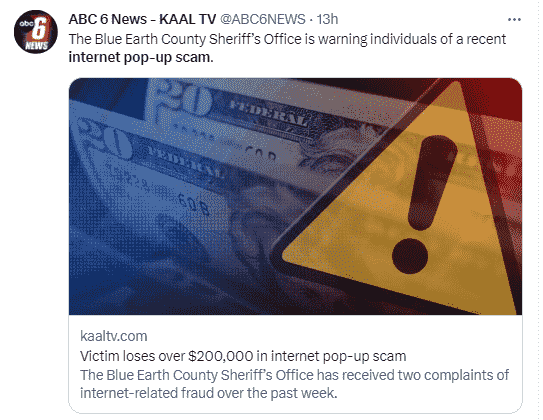 About The Author:
Yogesh Naager is a content marketer that specializes in the cybersecurity and B2B space.  Besides writing for the News4Hackers blog, he's also written for brands including CollegeDunia, Utsav Fashion, and NASSCOM.  Naager entered the field of content in an unusual way.  He began his career as an insurance sales executive, where he developed an interest in simplifying difficult concepts.  He also combines this interest with a love of narrative, which makes him a good writer in the cybersecurity field.  In the bottom line, he frequently writes for Craw Security.
Kindly read another article:
Techie Loses Rs. 42 Lakh to 'Like Video and Earn' Scam in Attempt to Earn Additional Income
Nigerian National from Delhi is Detained by Pune Police for Online Gift Scam
RSAC 2023 Revealed 10 Innovative and Amazing Cybersecurity Tools
About Author