Cyberattack on SAS Airlines Results in $175,000 Ransom Demand
As the cyber intruders raised the ransom, the airline's website and mobile application were unavailable for one day.
Following a hack on Wednesday, Scandinavian Airlines (SAS)'s app and website were down for almost an entire day.  According to reports, the airline transport company first had to pay the Anonymous Sudan organization $3,500 before they increased their asking ransom price to $175,000 from the carrier.
No Service
SAS has previously experienced an IT breach.  The identical group, Anonymous Sudan, released customer information in February, causing chaos as travelers were signed into accounts belonging to others rather than their own personal ones.  Cyber News claims that this hacking group is once again targeting SAS Airlines and that they took down their mobile application and website on May 24 for more than 22 hours.
Around 12:30 BST, Twitter users started reporting problems, saying they couldn't even launch the app or webpage or log into their respective accounts.  The inability of customers to check in online or print their boarding cards, which required them to check in at the airport physically, rapidly caused a flurry of questions.  In response to the disruption, the carrier stated on its website,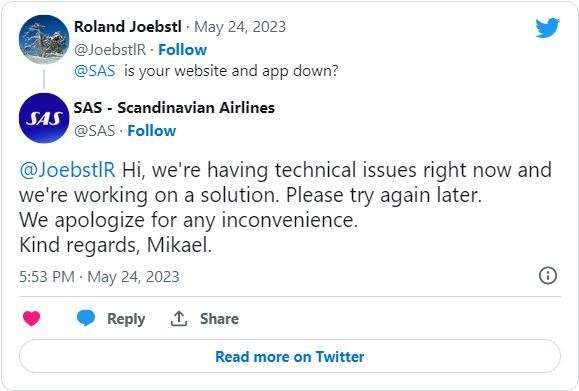 Later on, it was discovered that the problem was not an ordinary IT problem but rather related to a cyberattack.
Ransom Demanded
The hackers immediately sought a ransom to regain access to the SAS services, as has been customary with large corporations around the world, particularly airlines.  The group raised its ransom demands to $175,000 after originally asking for $3,500.  It's not known if the airline provided the price for the ransom or was able to regain access in any other way despite having insurance against hackers.  Flysas.com and all of its connected URLs were offline for almost an entire day as of the time of reporting.
According to Cyber News, Anonymous Sudan frequently uses Distributed Denial-of-Service (DDoS) assaults to crash servers and briefly shut them down.  Airlines are susceptible because of their extensive worldwide traffic sources and constant, high demand, which explains why numerous airlines experience problems.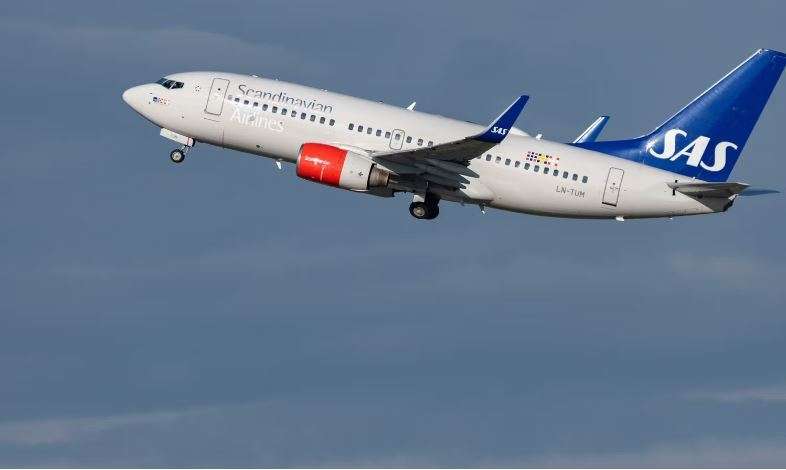 In a broader attack in February, SAS was one of the targets.  Passengers were able to see each other's private details, such as names, addresses, saved credit card last four digits, and flight records.  The airline declared that it was looking into the problem and had assembled an investigation committee to handle it.  Three months later, it was subject to a new hack and went offline for a day.
A team of reporting professionals from News4Hackers is constantly in touch with SAS Airlines, and whenever a response is received, this article will be updated.
About The Author:
Yogesh Naager is a content marketer that specializes in the cybersecurity and B2B space.  Besides writing for the News4Hackers blog, he's also written for brands including CollegeDunia, Utsav Fashion, and NASSCOM.  Naager entered the field of content in an unusual way.  He began his career as an insurance sales executive, where he developed an interest in simplifying difficult concepts.  He also combines this interest with a love of narrative, which makes him a good writer in the cybersecurity field.  In the bottom line, he frequently writes for Craw Security.
Kindly read another article:
Techie Loses Rs. 42 Lakh to 'Like Video and Earn' Scam in Attempt to Earn Additional Income
Nigerian National from Delhi is Detained by Pune Police for Online Gift Scam
RSAC 2023 Revealed 10 Innovative and Amazing Cybersecurity Tools
About Author