In Haryana, between the ages of 19 and 45, 43.24% fell victim to cybercrime in 2022–2023
The research showed that even 16.53% of teens (aged 14 to 18) were victims of cybercrime.
A caller pretending to be his son's friend in Canada called Gurpreet Singh, 37, who is a resident near Kaithal in Haryana.  The caller stated that they were in a car accident and urgently required some money.  They sounded upset.  Despite being under pressure, Gurpreet never had the slightest doubt when the call came in from a Canadian number.
He promptly sent ₹4 Lakhs to the caller's supplied bank account.  Gurpreet realized his error the following day when he contacted his son's number, which had been unreachable the day before.  He called the helpline at 1930 because he felt misled.  Additionally, he filed a complaint on the website cybercrime.gov.in, and the fraudster's account number and any associated accounts were frozen.  After the cyber team's efforts, ₹2 Lahks were placed on hold in the scammer's main and other associated bank accounts, and the victim received a reimbursement.
There are many others like Gurpreet who have gone through similar things.  A call for huge cake orders came in one day to the bakery owned by a 35-year-old Panchkula resident.  In addition, the prospective client chose cake samples.  When the purchase was completed, the baker called the client, but he requested to give her a QR Code that she would need to scan in order to receive payment.  She scanned the code, but Rs. 1.50 lakh was immediately taken out of her bank account.  The bank promptly returned Rs 90,000 to her account after she immediately informed the cyber police.
In an additional instance, a caller claiming to be from the ITBP called a 40-year-old Panchkula property broker.  Even though the "on guard" businessman requested their photo, they provided a bogus identification card.  The crooks claimed that they wanted to put in an order and that they needed parts for their ITBP center.  They even gave around  ₹10,000 advances to seem sincere.  When the purchase was prepared, they shared a code and required the businessman to download the "Any Desk" application from the Play Store.  The criminals took authority over his device using the app and snatched ₹1.34 Lakhs.
The Haryana hotline number receives 1,200 to 1,350 calls per day on average from those who complain about being conned.  According to data produced by the Haryana crime division, over 1.80 Lahks (43.24%) of the 2.44 Lakh calls recorded in the fiscal year 2022–23 were placed by people aged 19–45.
The research showed that even 16.53 percent of teens (aged 14 to 18) were victims of cybercrime.
Around 36.31% of those aged in the 46 to 55 age group and 3.91% of those in the 56 to 65 age group were victims of online scams, respectively.
The information also showed that the Haryana crime branch discovered 34,556 bank accounts in various banks that were being used by cyber burglars in 2022–2023 and stopped them after analyzing the police complaints and the information obtained from questioning the arrested groups.  The crime branch blacklisted about 30,492 mobile numbers within the same time period.
According to the report, Gurgaon saw 7,555 incidents, followed by Faridabad (3,565), Hisar (1,171), Sonipat (858), and Ambala (855).
OP Singh, Haryana's cyber nodal officer for the State Crime Branch and Additional Director General of Police (ADGP), Crime, responded, "This is the age group that either has funds in their bank accounts or are looking for employment and can be enticed readily.  Thus, those individuals are either those who have jobs with extra money or the ones who are searching for work and are willing to set aside money in order to do so.
He continued by saying that just like vehicular crashes, cybercrime has a golden hour.  "If noted within the foremost hour, possibilities of barring fund transfer to a conman's bank are approximately one hundred percent.  Banks should check the credentials prior to creating bank accounts in light of the rising number of blocked bank accounts.  If they observe any irregularities in the functioning of any bank accounts, they should rather help us, he stated.
While there are many advantages to this, it has also given online criminals new ways to prey on trusting people and companies.
He also cited the increase in digital payments and an absence of cybersecurity awareness as contributing factors.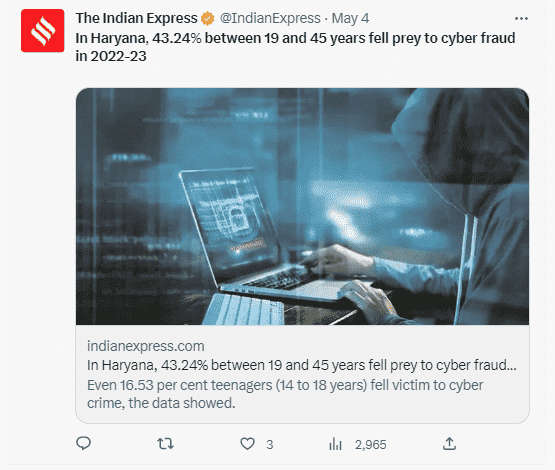 Although cyberattacks are occurring more frequently, several Indians are still not aware of the dangers associated with employing digital technologies and the measures the Government of India has taken to tackle cybercrime.  As an outcome, they frequently neglect to take simple safeguards such as employing strong passwords, staying away from dubious links and attachments, updating their software, and reporting cyberattacks to 1930 within the window of opportunity or the golden hour.  In addition, greater numbers of individuals in India make use of digital payment procedures for their regular dealings as a result of the government's push for a cashless society.  This has given cybercriminals fresh chances to take advantage of holes in these systems and steal private financial data, he continued.
Apart from Phishing, ransomware attacks, identity theft, online banking fraud, and cyberstalking have all increased, but so have social media scams, phony job offers, and scams involving cryptocurrencies.
Kindly read another article:
The Impact of Cyberattacks on SMEs is Examined in "Small Businesses, Big Risks: Cyberattacks" Devastating Effects on SMEs
Nigerian National from Delhi is Detained by Pune Police for Online Gift Scam
RSAC 2023 Revealed 10 Innovative and Amazing Cybersecurity Tools