Navi Mumbai: Man Lost More than ₹ 10 Lakh in a Cyber Fraud
Man Lost More than ₹ 10 Lakh in a Cyber Fraud
The claimant said that last month he received a message on his mobile phone announcing that a media company was hiring individuals for jobs that would pay between 2,500 – 5,000 per day.
Police, Monday
In a cyber fraud, A Man (45 Years), Logistics, Navi Mumbai, was duped of ₹ 10.52 Lakh by a cyber fraudster in the delusion of extra income.
Official, Khandeshwar Police Station, 29 Apr, 2023
A case under relevant provisions of the Indian Penal Code and Information Technology Act was registered in this regard.
The victim said that the previous month he got a message from a media communications company on his smartphone that he would get a job that would pay him around ₹2,500 – ₹5,000/ day.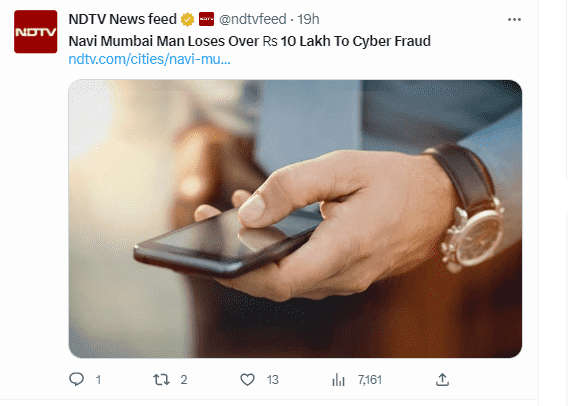 Official, Khandeshwar Police Station
He was asked to install a mobile application and play some of its games online, and he has to get paid. After a few times, he was asked to pay ₹ 10.52 Lakh to get amazing returns in return for the amount he had paid.

After he paid the amount, he didn't get anything in return. He was shocked that he didn't get a single penny in return. Then he registered an FIR about the incident at the Police Station.
For more amazing facts & information like this, you can follow us on News4Hackers. Leave a comment if you have any queries.

Kindly read another article:
The Impact of Cyberattacks on SMEs is Examined in "Small Businesses, Big Risks: Cyberattacks" Devastating Effects on SMEs
Nigerian National from Delhi is Detained by Pune Police for Online Gift Scam
HR Company Notifies of A Data Breach
Alert! Latest Text Scam will gorge you out of your money and data.