Techie Loses Rs. 42 Lakh to 'Like Video and Earn' Scam in Attempt to Earn Additional Income
Scam of "like video, make money": A man from Gurgaon was duped into thinking he could earn handsome money by liking videos on the well-known media-sharing software YouTube.
An IT firm employee who works as a software engineer joined a "like video and earn money" job and was defrauded of nearly Rs 42 Lakh.
PTI, Sat
Police claimed that it was a con intended to steal money from the victim.
Gurgaon, a man, was lured into a scam that influenced him to like videos and earn free money on YouTube. He joined a Telegram Group and invested money because of a claim of assured returns.
The victim resident of Sector 102 who filed a report on 24 Mar got a message for earning additional income via a part-time job of video engagement through likes.
Victim (News Agency)
"When I agreed to work with them, a woman named Divya added me to a group on Telegram App. She asked me to invest money with the claim of assured better returns.

On the pretext of a task, they had asked me to invest, and I transferred a total of ₹42,31,600 from my and my wife's bank accounts.

Besides Divya, other people named Kamal, Ankit, Bhoomi, and Harsh confirmed the transaction and soon after told me that I had earned ₹69 Lakh plus profit.

But they did not allow me to withdraw the money.

They then asked me to transfer ₹11,000 more, which seemed fishy to me, and I moved to the police."
Friday, West Police Station
Under relevant sections of the Indian Penal Code (IPC) and the Information Technology (IT) Act, a First Information Report (FIR) was made against unidentified con artists in Cybercrime.
Senior Police Official
The bank details were retrieved, and an investigation is underway.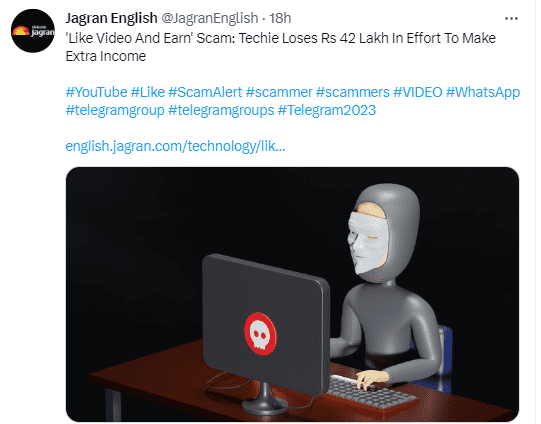 ET Now
Similarly, a Mumbai-based teacher was duped in a scam case where she lost ₹80,000 to a fraudster claiming to be an EPFO Associate. The "teach" downloaded a remote access app and filled out bank details with her PIN.
For more amazing facts & information like this, you can follow us on News4Hackers. Leave a comment if you have any queries.
Kindly read another article:
The Impact of Cyberattacks on SMEs is Examined in "Small Businesses, Big Risks: Cyberattacks" Devastating Effects on SMEs
Nigerian National from Delhi is Detained by Pune Police for Online Gift Scam
RSAC 2023 Revealed 10 Innovative and Amazing Cybersecurity Tools