Nearly $8 Million Worth assets stolen from BitKeep Apps. How?
Do you know about BitKeep? It's one of the largest used web3 Defi wallets. Users of BitKeep have become the victims of a huge cyber attack that was executed to lead victims to a compromised version of the application. After installing and using that application to store & transfer the bitcoins with assets, they got cheated, head on! But, how did the whole thing happened? For that, we can say – it was all because of a little carelessness we all do.
We must not search for the applications on Google too much and shouldn't trust & intall such applications for our own safety. That could be a maliciously customized application that is designed to trap us with a bit of imitation. Let's keep going!
A huge number of BitKeep Crypto Wallet Users reported about their accounts being emptied while Christmas Season is ongoing. Also, hackers only attacked transactions that didn't needed verification. So, it was one of the loopholes for the people who suffered along with it.
This Platform is a Decentralized Multi-Chain Web3 Defi Wallet that supports following social elements:
Blockchains (30)
Mainnets (76)
Decentralized Applications (20,000)
Assets (223,000+)
Over 8 Million Users from 168 nations are using this platform for asset management & transaction handling. Platform hasn't annouced any official news on its website regarding this event. However, it notified the community on the Official Telegram Channel – This incident has affected users who installed the unofficial version of the BitKeep App from an unofficial website.
BitKeep, Announcement
"After a preliminary investigation by the team, it is suspected that some APK Package downloads have been hijacked by hackers and installed with code implanted by hackers.
If your funds are stolen, the application you download or update may be an unknown version (Unofficial Release Version) hijacked."
Following Image might be able to tell you the situation regarding this whole event.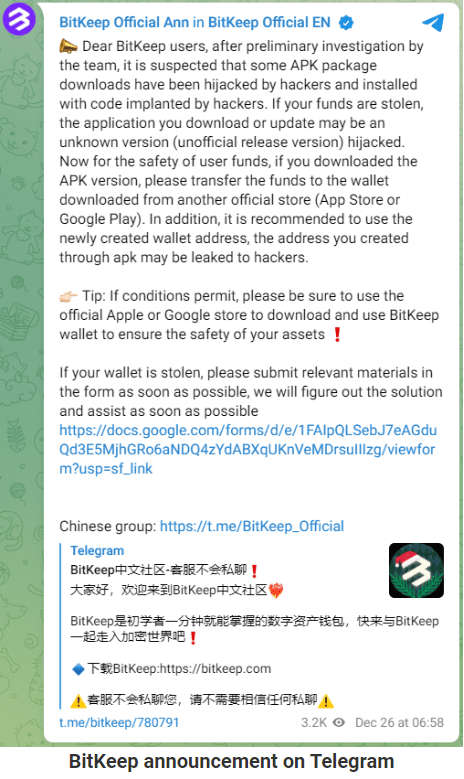 Solution, BitKeep Officials
Who have already installed the corrupted version of BitKeep Apk Package, should move their funds to the Official App, which they can download from the Google Play/ App Store. For that, they just need to create a new wallet address, after that moving funds is all they need.
A warning has already been issued by the wallet platform (victimized) that new users must avoid transacting with the victimized accounts addresses, as they were to be counted among compromised ones.
Relief for Victims
Victimized users are requested to fill out this form for BitKeep's Support Team. That's to try to offer a solution in a timely manner.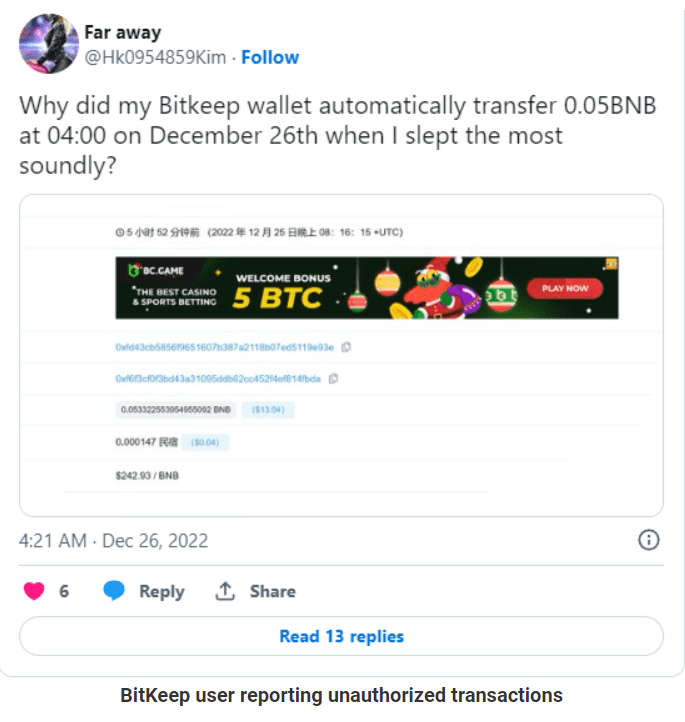 It's not estimated yet by BitKeep that how much amount has lost due to the event. However, PeckShield (Transaction Tracking Service) reported approax $8 Million worth of assets got stolen till now.
Some of those transactions which was spotted by PeckShield included:
4373 $BNB,
4M $USDT,
196k $DAI,
And 1233.21 $ETH.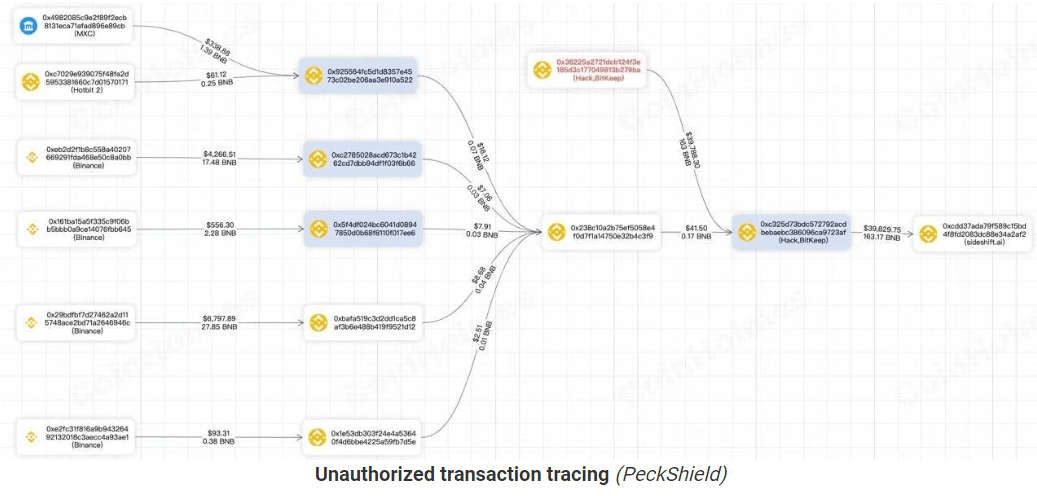 As the attack is continiously going on, while the adversaring benefiting from holiday season, creating interruptions in notifying events news & incident response activities, because of which the amount of loss is expected to grow!
Oct, 2022
BitKeep had to suffer a loss nearly $1 Million after cybercriminals exploited a loophole in the service allowed them to execute arbitary token swaps.
In that period of time, BitKeep took control of the situation by reimbursing the amount of all affected users. However, this time, it seems a bit different from previous one, as it is such an attack that victimized users by trojanized Apk. well, then it is nearly impossible to expect any refund, this time.
For more amazing facts & information like this, you can follow us on News4Hackers. Leave a comment if you have any queries.
Kindly read another article :
Over 280,000 WordPress Sites Attacked Using WPGateway Plugin Zero-Day Vulnerability